Green is the colour this week as Traffic Group Signals deliver the latest fleet additions to Sunbelt Rentals.
Following their recent re-brand, Sunbelt Rentals UK have been gradually upgrading their fleet to include the industry-leading RadioConnect2 and Micro portable traffic signals in new livery.
The latest order for 32 Micro portable traffic signals consists of both traffic and pedestrian units, and features the iconic Sunbelt Green and transfer label graphics for a stunning finish. It joins a growing fleet of AutoGreen enabled RC2 units that are enabling Sunbelt Rentals to meet high demand for greener, safer and more efficient portable traffic signals.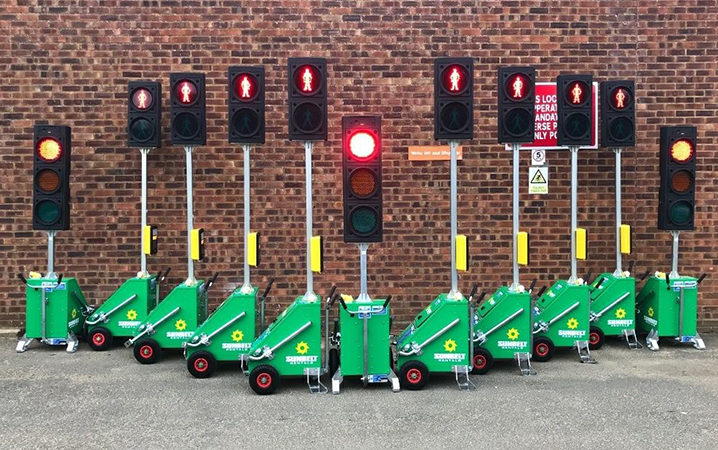 "Thanks to Traffic Group Signals for delivering. They look great in the new Sunbelt Rentals UK green!"
– Sunbelt Rentals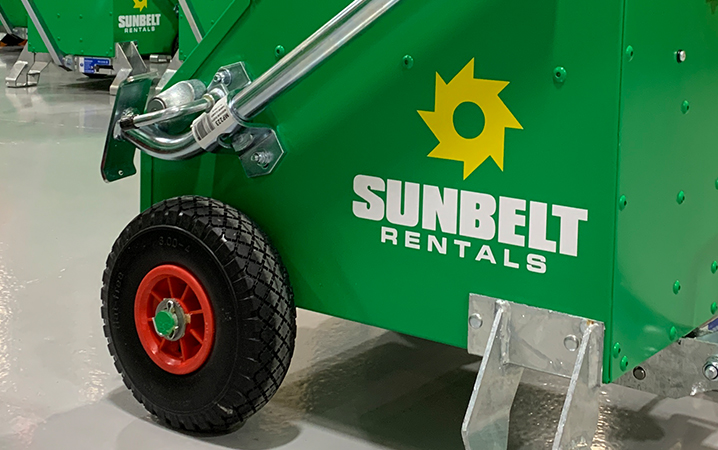 The Micro Portable Traffic Signal is finished with transfer label graphics provided by Sunbelt's printing partner Gate 7. We were really excited to get these on to our kit and our production team did a fantastic job of lining these up perfectly across all the Micro base units.
The new decals create a crisp and modern finish that complements Sunbelt's other plant perfectly. We think it looks so good we might need to look at it for our own branding!!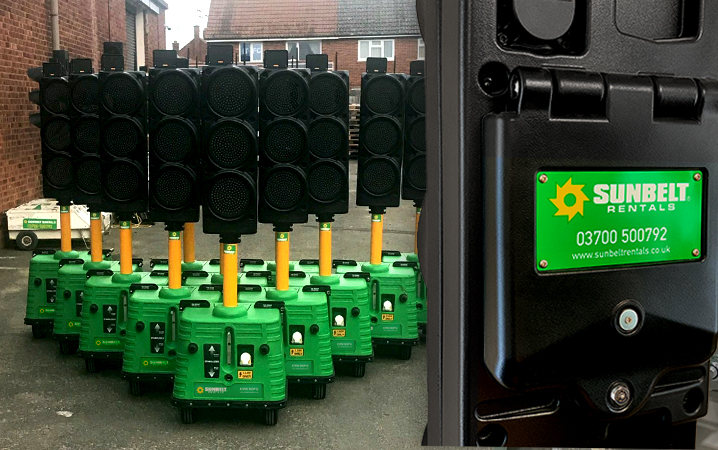 To meet growing demand for the industry-leading AutoGreen Technology, Sunbelt have been bolstering their fleet with the RadioConnect2 portable traffic signal. The RC2 features the only proven signal technology that can deliver efficiency through roadworks.
The robust green plastic covers had to be specifically sourced and are exclusive to Sunbelt, are a near perfect colour-match for their brand identity. There will be no mistaking whose fleet these belong to!
Thank you Sunbelt Rentals UK!
We thank Sunbelt Rentals for their continued investment in Traffic Group Signals and look forward to supporting their future growth.
Sunbelt Rentals provide rental equipment and managed solutions into every market and sector including: construction, industrial, energy, infrastructure, government and events.
For more information, please visit their website at: sunbeltrentals.co.uk