Reimagining what it means to deliver best-in-class traffic management solutions, Traffic Group Signals has welcomed a custom-built Command Centre Vehicle into its growing fleet – a first of its kind for the industry.
Allowing Traffic Group Signals to deliver an agile and truly unique service, the new trailblazing vehicle houses everything the technical team and customers need to commission and control even the most complex sites in safety and comfort.
Thanks to mobile CCTV, deployed on a four-metre mast, when on-site, the Traffic Group Signals team can access a live feed of the traffic flow from within the vehicle, displayed across two 27" LCD screens. Connectivity is also made simple thanks to an onboard WiFi network/4G router.
Integrated traffic signal controllers for the Metro Pro and Evo 1 Pro systems can swiftly make necessary adjustments. At the same time, the onboard computer ensures seamless connectivity into Signal Studio – the ground-breaking software platform developed by Traffic Group Signals to design and implement complex temporary traffic signalling schemes.
Taking customer support to the next level, the bespoke VW Crafter Command Centre Vehicle also incorporates a workbench area,a tripod traffic signal, additional batteries and a generator for charging. These features, alongside a wide selection of spare parts, provide backup for almost every scenario.
Customers and the Traffic Group Signals team also benefit from a well-equipped meeting space within the vehicle, complete with rotating captain seats for roadside comfort, heating and air conditioning, plus a kitchenette with hot and cold water for on-site refreshments.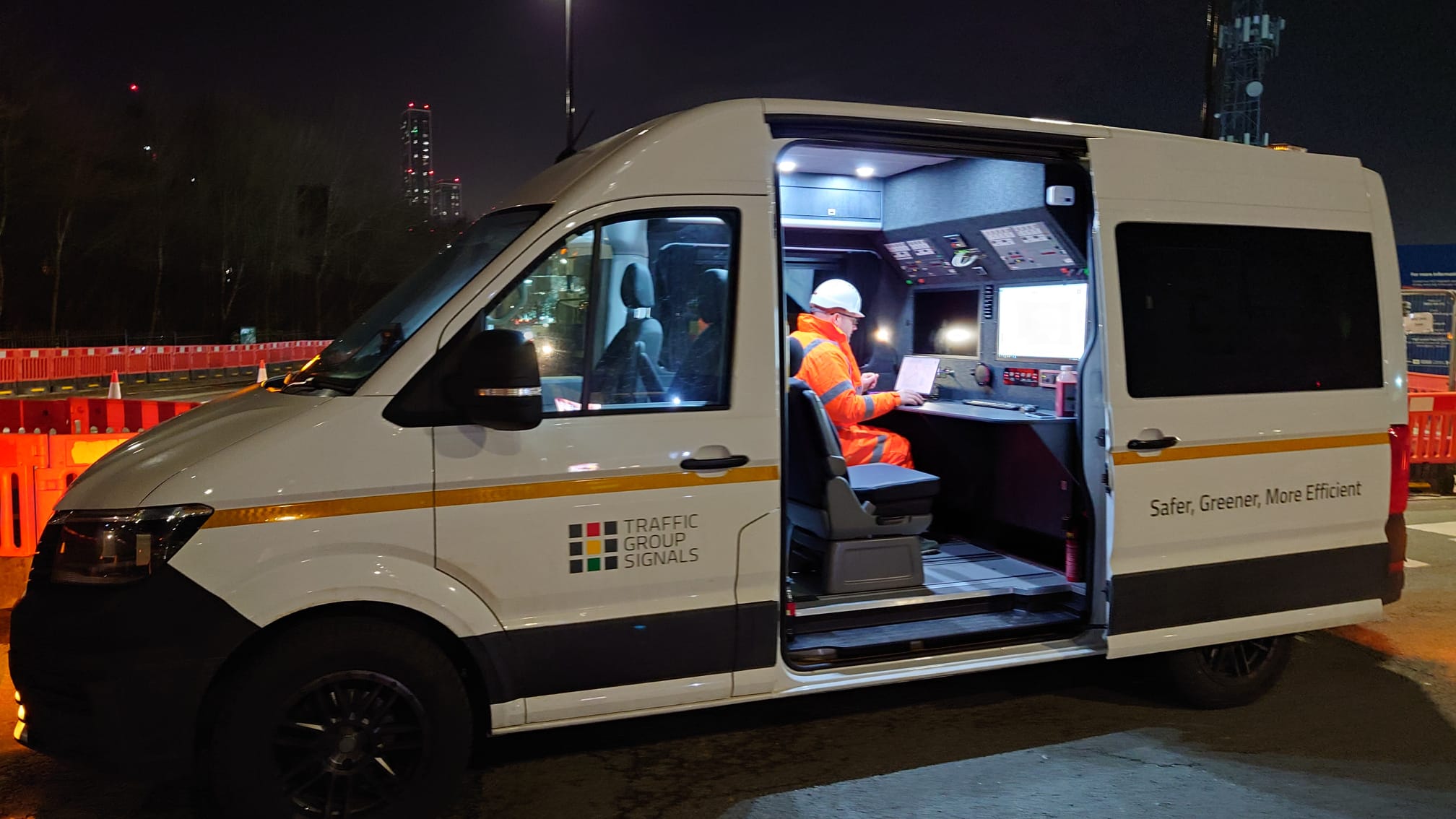 Jason Swan, Technical Manager at Traffic Group Signals, discusses the thought process behind the newly launched Command Centre Vehicle and how it's already benefiting customers.
"Innovation and discovering even more ways to work in close partnership with customers are the centre of everything we do at Traffic Group Signals. The Command Centre Vehicle brings this ethos to life.
"Nothing quite beats being on the ground at a site when it comes to commissioning, especially for complex schemes, so we wanted to discover a way to quickly take our industry-leading commissioning technologies out on the road, delivering extra support and added value for customers. By having this facility at the roadside, we can optimise timings based on local observations. This highly agile approach to fine-tuning timings enables us to move traffic more efficiently and minimises delays for the travelling public.
"The vehicle has already been clocking up miles, visiting sites across the country, with customers praising our unique approach. Thanks to the comfortable meeting facilities, we can host our customers too, whether for training or an initial on-site meeting. Whatever the scenario, just like our technologies, we can now deploy The Command Centre Vehicle to respond to any need rapidly."