Offering the capital its first experience of the new Metro traffic signals, in August 2021 tbf Traffic and Traffic Group Signals (TGS) deployed the innovative system during works in Woodford, London.
The temporary traffic signal system was unloaded and set up in no time, with the teams working hard to minimise impact on traffic. The system is also wireless, a technological first for temporary signals, which made for a swift deployment. Installation was also made easier thanks to TGS's proprietary software, which allows engineers to simulate crossings ahead of time, coupled with tbf's in-house CAD allows for detailed site planning.
London demands fast, safe, secure solutions to traffic management, and Metro ticks all the right boxes. TGS first deployed Metro in October 2020, but this is the first time they've been used on a TfL project. The Metro system also benefits from TGS's AutoGreen technology, Active Channel Management and UTC connectivity.
Portable vs Temporary Traffic Lights
There are two types of light commonly used in traffic management: portable lights and temporary lights. Portable lights are mainly used for short jobs and on shuttle sites – where the width of the road is restricted, allowing traffic to pass in only one direction at a time. They're light, easy to move as needed, and can be swiftly deployed for reactive work.
Temporary signals are bigger and sturdier. They're easier to see from a distance and harder to steal. As they look more like permanent lights, they're deployed on longer-term projects, including complex works, junctions, and crossings.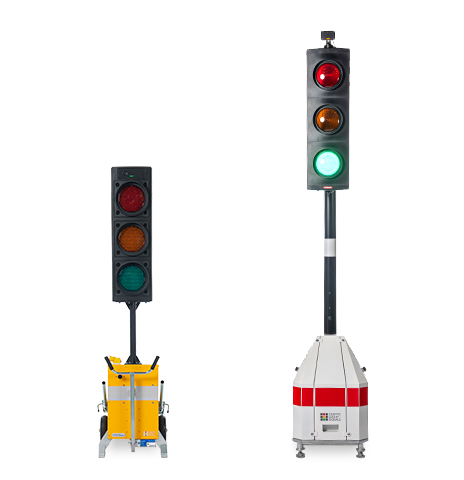 What makes Metro different?
Metro is the only full-spec wireless temporary traffic signal on the market. They're as sturdy as the best temporary systems, boasting immovable bases and a 3.4m height, but wireless technology means they come without the hassle of cabling that can prove awkward in busy urban environments.
Each light has only three components and can be easily set up without specialist equipment. This saves time and minimises disruption to traffic. A long battery life – four to six weeks – adds further stability to the setup.
The Metro can be programmed for nine vehicle phases and eight pedestrian crossings. It can also work with up to 34 Metro signals, allowing for a complete temporary traffic control system.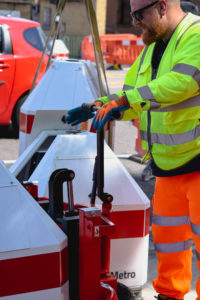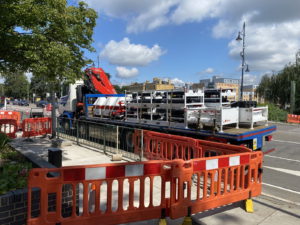 How do they work wirelessly?
Metro systems communicate via active channel management (ACM), which separates them from the 'spectrum congestion' that afflicts metropolitan areas.
Busy cities and towns struggle as utility and bank telematics share their radio channels with portable traffic signals. The problem was compounded in 2018, when construction sites started using high-powered two-way radios.
As you can imagine, issues with signals can have severe effects on traffic and infrastructure. But Metro signals' ACM makes them safe to operate wirelessly in difficult environments, including the uniquely challenging central London area.
Acknowledgements
Special thanks to tbf Traffic for providing this opportunity to deploy Metro and contributing to this case study.
Would you like to work with us?
We are always looking for new stories and case studies for our website. If you've had some great results with our products and want us to help you share your success, please send your enquiries to [email protected].