The Challenge
For traffic control centres around the country, the two main causes of congestion are collisions and roadworks.
Roadworks with temporary traffic signals are a major source of frustration and delay for drivers, and when they are operated in sensitive parts of the network, their impact can be very high. This is especially problematic where the temporary signals are in the middle of a UTC or SCOOT controlled network.
It can be difficult to integrate temporary traffic signals into existing urban traffic control systems. In practice, this means that at highly sensitive sites, Traffic Management (TM) companies are instructed to manually control the signals during the peaks. Officers within the traffic control centres then call the on-site operatives and ask them to adjust the signal timings as required.
This is problematic for the TM companies and contractors due to the staffing cost and for control rooms because coordination between sets of signals is not possible. Also, there can be difficulties in getting hold of the on-site operatives when needed.
Bristol City Council wanted a temporary traffic signal that easily integrated with the existing UTC system and minimised the impact of road works in the city.
The Solution
Traffic Group Signals were the first manufacturer to develop radio-linked temporary traffic signals that operate under UTC control via wireless 3G/4G or ADSL connection.
Our UTC portable traffic signals are capable of operating under UTC fixed time plans, or as part of a SCOOT node. We were able to provide a specialist solution, suited to highly traffic sensitive sites or long term works which allowed the signals to be fully integrated into Bristol's urban network.
To demonstrate the products capabilities, we trialled our UTC temporary traffic signals at two sites in Bristol and recorded our findings.
"The signals improved traffic flow and maximised capacity effectively,
minimising the traffic impact of the works."

– Bristol City Council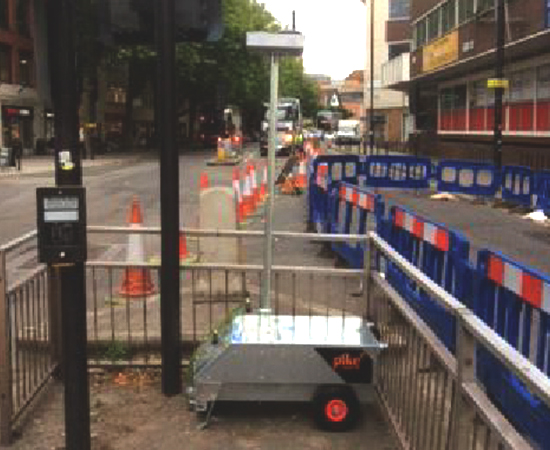 "The signals improved traffic flow and maximised capacity effectively,
minimising the traffic impact of the works."

– Bristol City Council