UTC Master Controller
with Evo UTC controller


At a Glance
Our wireless UTC Master Controller conveniently and safely connects portable traffic signals to the Highways Authority network, and now operates via secure VPN for testing before deployment and remote monitoring.
View product description
Application
Urban Traffic Control
Vehicle Control
Pedestrian Control
For traffic control centres around the country, the two main causes of congestion are collisions and roadworks.
Urban Traffic Control (UTC) systems are used to link together individual traffic signal installations. They control the starts and duration of the green periods given to traffic at adjacent sets of traffic signals along a route or within a road network. When conventional portable signals are deployed at roadworks they often can't integrate with the existing UTC network, leading to disrupted traffic flow and congestion.
Solutions that can integrate to UTC networks are usually labour intensive and can be expensive to install, often requiring overhead or underground cabling and roadside configuration.
Our UTC Master Controller is capable of operating under UTC fixed time plans, or as part of a SCOOT node and connects to the Highways Authority network by 3g/4g or by ADSL connection. It enables the wireless control of all portable or temporary signals in the set up, thus removing the risks of cables.
Our UTC master controller offers a specialist solution, suited to highly traffic sensitive sites or long term works which allowed the signals to be fully integrated into urban networks.
Now a managed service!
To improve the service delivery of UTC installations, Traffic Group Signals now provide a managed service. We now work with the traffic management partner and Highways Authority to configure and test the UTC master before it reaches the site, therefore taking the stress and delay out of road-side set-up.
Existing customers have the option of hiring any or all of the portable signal equipment required for the job or simply the master controller. For more information, please visit our UTC page.
The only wireless, radio-linked solution for portable Urban Traffic Control (Patent GB2534294)
Integrates with permanent traffic control systems for seamless urban traffic movement
Up to 34 heads
Can serve up to 9 Traffic Phases and 8 Pedestrian Crossings
Unique dual-band radio offering multi-channel communication ability
Compatible with UG405 protocol
ADSL cable or 3G/4G wireless signal connection
POWER

No of Batteries
4
Integrated Charger
Optional
Runtime on Single Charge (Days)
Up to 14 days
PHYSICAL

Total Weight without Batteries (Kg)
<140kg
Total Weight with Batteries (Kg)
<200kg
Max Heads on an Unbraked Trailer
2
FAULT HANDLING

Auto-Recovery
Comms Performance Based
PHASES

Max Traffic Phases
9
Max Pedestrian Phases
1
Max Heads
34
Max Vehicle Heads
18
Max Pedestrian Heads
16
Max Heads Per Vehicle Phase
4
Max Heads Per Pedestrian Phase
16
MODES

All-Red
Yes
Manual
Yes
Fixed Time
Yes
VA
Yes
AutoGreen
No
UTC
Yes
Test

Dry Heat
BS EN 60068-2-2:2007
Cold
BS EN 60068-2-1:2007
Damp Cyclic
BS EN 60068-2-30:2005
Drop
BS EN 60068-2-31:2008
Impact
BS EN 62262:2002 & BS EN 60068-2-75:2014
Random Vibration – Transportation
 TR2130E Sect 5.1
Random Vibration – Operational
TR2130E Sect 5.2
Bump
BS EN 60068-2-64:2008
Shock
BS EN 60068-2-27:2009
Water Ingress
BS EN 60529:1992 + A2:2013
Drop and Topple
TR2130E & BS EN 60068-2-31:2008
Wind
Wind tunnel test
27m/Sec

 UTC Controller Product Leaflet
Looking for more? Visit our Resource Centre!
Our UTC master controller is available for hire only.
Let us take the stress out of setting up your UTC site, the master will arrive at your depot fully configured and tested end-to-end with the Highway Authority, and can be used with your existing signals or along with ours.
For full details, visit our UTC page.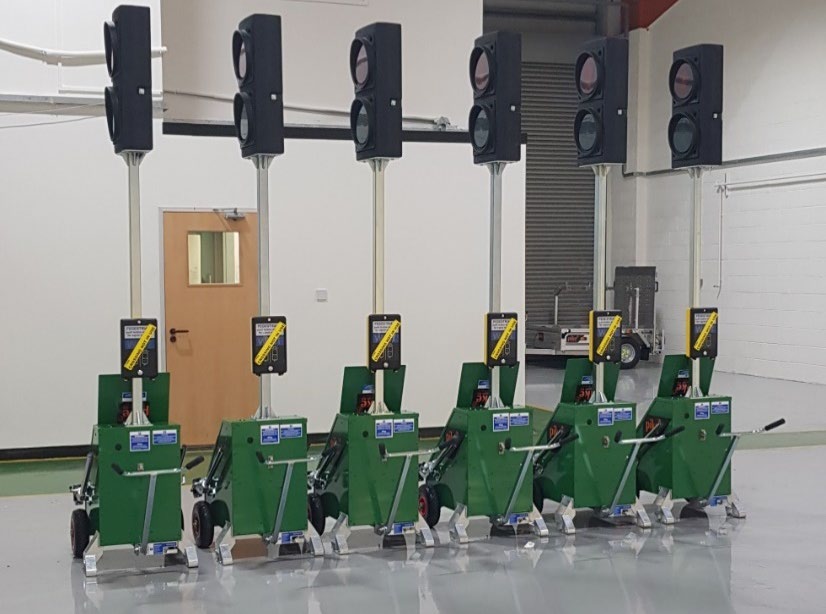 Featured
Keltic Traffic Management expands pedestrian offering
On 17 December, Keltic Traffic Management demonstrated their commitment to safety by investing in 6 new Micro pedestrian traffic lights, bringing their total number of Pike Signals pedestrian systems to over 30 sets. Over the past 12 months,...