RadioConnect2
with AutoGreen controller


At a Glance
Our RC2 AutoGreen Traffic Light is the most advanced portable signal in the TM industry, proven to improve journey times at road works by up to 50%. With AutoGreen Technology and Active Channel Management, the RC2 sets the standard for efficient traffic management. With 18+ day run times, it is becoming the signal of choice for TM and utilities companies.
View product description
Application
Vehicle Control
AutoGreen
Designed from the ground up with safety, security and performance in mind, the RadioConnect2 (RC2) is the most advanced portable traffic light in the industry. With AutoGreen® and Active Channel Management built-in, the RC2 sets the standard for efficient traffic management.
RadioConnect2's ground-breaking design addresses the common problems faced by the traffic industry, such as signal performance, battery theft and reliability.
Safety
Operatives will find the RC2 really easy to use with the simple control panel, which is placed at eye level. This makes the signal safer to use, because you can see oncoming traffic when setting up. The base unit has tie down straps and stow-away handles to make transporting convenient and more secure.
The built-in chargers enable it to be fully charged in 12 hours, reducing the need to carry heavy batteries around the depot.
The RC2 features our patented Active Channel Management (ACM) technology, for more reliable radio communications. How does it work? By proactively monitoring, switching and recovering radio channels, ACM maintains a strong connection between units at all times. This means your lights are unlikely to fail when in use.
Security
The days of battery theft are gone with the steel locking bar built within the solid frame. Each RC2 has a customer specific code to stop it working with other units and the lock-down stabiliser system stops unwanted movement when the signal is in use.
Performance
With our patented AutoGreen Technology, the RC2 AutoGreen traffic light dynamically adjusts green times for 2-way operation, proven to improve journey times by up to 50%. Read more in the section below!
The RC2 boasts a best-in-class run time of 18 days or more, so you can save money by reducing battery swaps and charging batteries less. You can see the battery level and estimated days remaining on the signal display.
These performance features have environmental benefits that help our customers add value to their service and their clients.
Why buy the RadioConnect2 AutoGreen Traffic Light?
Most Traffic Management companies who trial our RC2 units don't want to give them back! We have spent hundreds of hours fine-tuning the design and technology of the RC2 to make it the very best portable signal at a competitive price.
The RC2 performs up to 4-way operation, so is ideal for TM firms who mostly operate in rural areas or deliver traffic management for shuttle lane street works.
AutoGreen is a patented technology that uses artificial intelligence to dynamically adjust signal behaviour. It adapts to ever-changing traffic conditions, improving journey times through roadworks by up to 50%.
AutoGreen is considered a viable alternative to manual control because of its efficiency and ability to prevent roadworks becoming jammed. This is a problem often found in standard VA (vehicle actuated) portable signals with Doppler radars.
This patented technology is only available to Traffic Group Signals.
It is becoming the chosen mode of operation for utilities companies looking to reduce the cost and reliance on manual control, which can be challenging, less safe and often unnecessary for many sites.
Best-in-class run-time of 18 days or more
AutoGreen Technology
Active Channel Management
Advanced AGD FMCW radar
Full charge in under 12 hours
Battery security and stabiliser
Up to 4-way operation
POWER

No of Batteries
2
Built-in Charger
Yes
Runtime on Single Charge (Days)
Up to 18 days
PHYSICAL

Total Weight without Batteries (Kg)
<90kg
Total Weight with Batteries (Kg)
<130kg
Max Heads on an Unbraked Trailer
4
RADAR

Doppler Radar
No
FMCW Radar
Yes
FAULT HANDLING

Auto-Recovery
Time Based Restart
PHASES

Max Traffic Phases
4
Max Vehicle Heads
4
Max Heads Per Vehicle Phase
2
MODES

All-Red
Yes
Manual
Yes
Fixed Time
Yes
VA
Yes
AutoGreen
Yes
UTC
No
Test

Dry Heat
BS EN 60068-2-2:2007
Cold
BS EN 60068-2-1:2007
Damp Cyclic
BS EN 60068-2-30:2005
Drop
BS EN 60068-2-31:2008
Impact
BS EN 62262:2002 & BS EN 60068-2-75:2014
Random Vibration – Transportation
 TR2130E Sect 5.1
Random Vibration – Operational
TR2130E Sect 5.2
Bump
BS EN 60068-2-64:2008
Shock
BS EN 60068-2-27:2009
Water Ingress
BS EN 60529:1992 + A2:2013
Drop and Topple
TR2130E & BS EN 60068-2-31:2008
Wind
Wind tunnel test
29m/Sec
OPTIONS

Client Specific Coding
Yes
Keyed alike option?
Yes
Custom Colour
Choice of 12 interchangeable colours
Active Channel Management
Yes

RadioConnect2 Product Leaflet
Spares and repairs are available for this product, for more info please email: [email protected] or call: 0345 460 9999
2 year parts warranty excluding battery.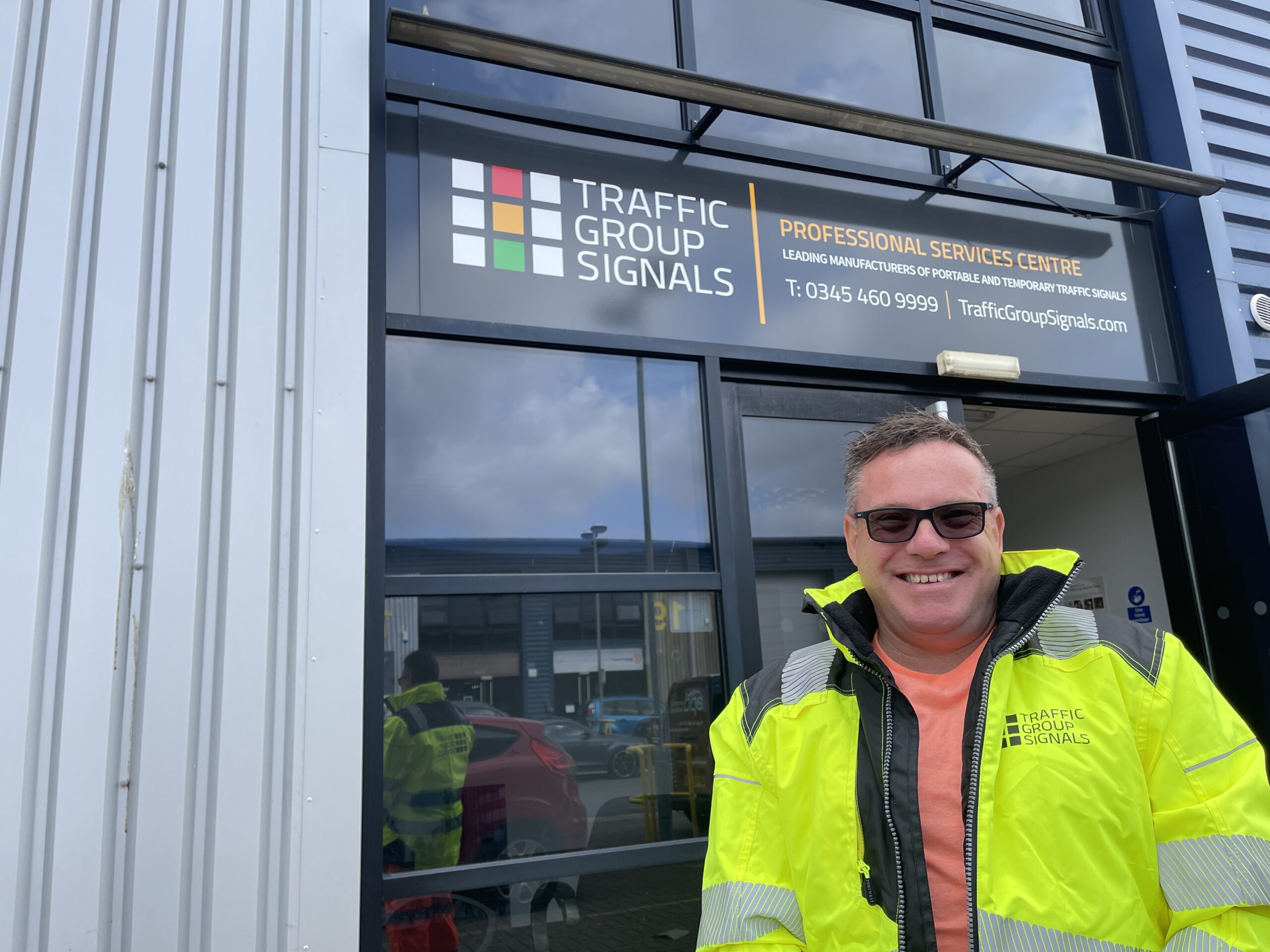 Featured
Traffic Group Signals bolsters Technical Team with new recruit
Traffic Group Signals, one of the UK's leading manufacturers of portable and temporary traffic signal products, has bolstered its team with a new Technical Manager. Jason Swan has been appointed Technical Manager – Professional Services and...