Metro Pedestrian Signal
with Metro Signal controller


At a Glance
Our Metro Pedestrian Signal is part of a new temporary traffic signal system, designed for large construction projects, junction replacement schemes and pedestrian crossings.
View product description
The Metro Pedestrian Signal forms part of a modular temporary traffic signal system designed for applications where permanent signals are being replaced, repaired or upgraded as well as special applications such as temporary pedestrian crossings.
A battery powered system, Metro uses the latest radio communications which enables it to be quickly deployed and decommissioned without the need for complex infrastructure, and boasts up to 6 weeks run time.
The Metro Pedestrian Signal is made up of three main components; the base unit, the signal head and signal controller.
Base Unit
Conspicuous, white bases with high visibility red band and additional high visibility white band on the signal pole conforming to regulatory requirements. This increases safety when the signal may be deployed in part-time use.
It features adjustable legs for uneven surfaces and double-entry design for easy maintenance and battery access.
Signal Head
Metro is available with a Temporary LED Traffic signal head, fitted with the high tech AGD306 radar or the LED Pedestrian signal with a low-power AGD WAIT indicator and optional Radix tactile indicator. The system can accommodate multiple signal head configurations and precise adjustment can be made to the direction of the head to enhance visibility.
Metro Controller Range
The Metro Pedestrian Signal features a dedicated signal controller for diagnostics and signal/battery monitoring, it is to be combined with the Metro Master Traffic Signal, which is capable of 9 vehicle phases and 4 ped phases. The base unit accommodates two controller models to allow for different head configurations.
Fully wireless ACM Radio Communications
Wind Tunnel Tested >26m/S
Full Regulation Diagram 3000 LED signals to BS EN 12368 with dimming function
Battery operation with impressive 6 week run-time
Safe, simple and fast road-side deployment
POWER

No of Batteries
6
Integrated Charger
No
Runtime on Single Charge (Days)
Up to 6 weeks
PHYSICAL

Total Weight without Batteries (Kg)
290kg
Total Weight with Batteries (Kg)
425kg
RADAR

Doppler Radar
No
FMCW Radar
Yes
FAULT HANDLING

Auto-Recovery
Advanced Recovery Protocol
PHASES

Max Traffic Phases
9
Max Pedestrian Phases
8
Max Heads
34
Max Vehicle Heads
18
Max Pedestrian Heads
16
Max Heads Per Vehicle Phase
4
Max Heads Per Pedestrian Phase
8
Test

Dry Heat
BS EN 60068-2-2:2007
Cold
BS EN 60068-2-1:2007
Damp Cyclic
BS EN 60068-2-30:2005
Drop
BS EN 60068-2-31:2008
Impact
BS EN 62262:2002 & BS EN 60068-2-75:2014
Random Vibration – Transportation
 TR2130E Sect 5.1
Random Vibration – Operational
TR2130E Sect 5.2
Bump
BS EN 60068-2-64:2008
Shock
BS EN 60068-2-27:2009
Water Ingress
BS EN 60529:1992 + A2:2013
Drop and Topple
TR2130E & BS EN 60068-2-31:2008
Wind
Wind tunnel test
26.3 ms-1
OPTIONS

Audible Sounders
Yes
Radix Tactiles
Yes
Client Specific Coding
No
Keyed alike option?
Yes
Custom Colour
No
Compatible Controllers
Metro Master, Metro Signal
Interchangeable Traffic and Pedestrian Heads
Yes

 Metro Product Leaflet
Looking for more? Visit our Resource Centre!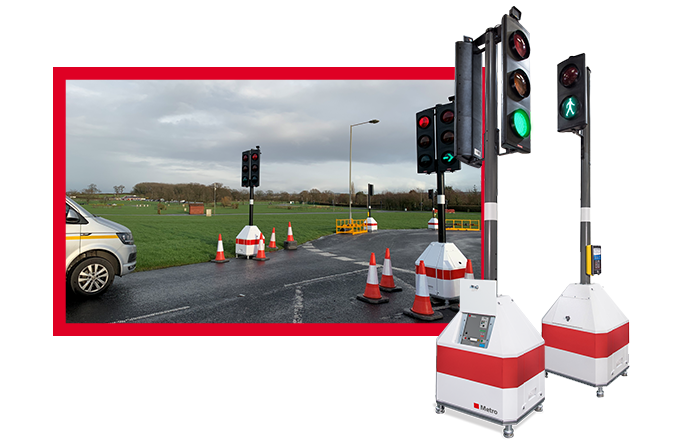 Featured
Metro is here!
Reliable. Cableless. Safe. We are pleased to announce the launch of Metro, our latest temporary traffic signal system!